Shifting September in Probinex
Summer is already over, but we're certainly not going into winter hibernation. We are still working hard to bring our vision to a successful completion. As a result, we have entered the new school year with an undying vigor that is reflected in the performance of our project.
So how did it look in September at Probinex and beyond? Come take a peek in this regular newsletter!
Introductory statement by Adam Neuberger, co-founder of the project
As a Probinex project, we have already accomplished a lot. We've achieved many of our goals, built products that traditional financial tools can't compete with, and we're still improving everything to best serve you, our clients.

That's where we differ fundamentally from traditional financial institutions, where clients are at the end of the chain, getting the bare minimum for their funds.

With this fundamental concept, where the client is at the beginning of everything, we are now literally going out into the world, bringing our vision closer to potential partners not only in the Czech Republic and Slovakia, but also in the Middle East and other places around the world. That is why we have to work hard and strive to reap the greatest fruits of our work.
We are therefore glad that you are with us, that you are spreading our ideas further, and I firmly believe that together we will take our project to the stars.
1) StayKing results for September 2023
We managed to finish the ninth month of the year in the green. Over 367,000 PBXs worth $66,867 were distributed to participants of our StayKing loyalty program. The average appreciation was 0.07 percent.

Earnio contributed 22,627 PBX worth $3,973 to the September StayKing from its August results.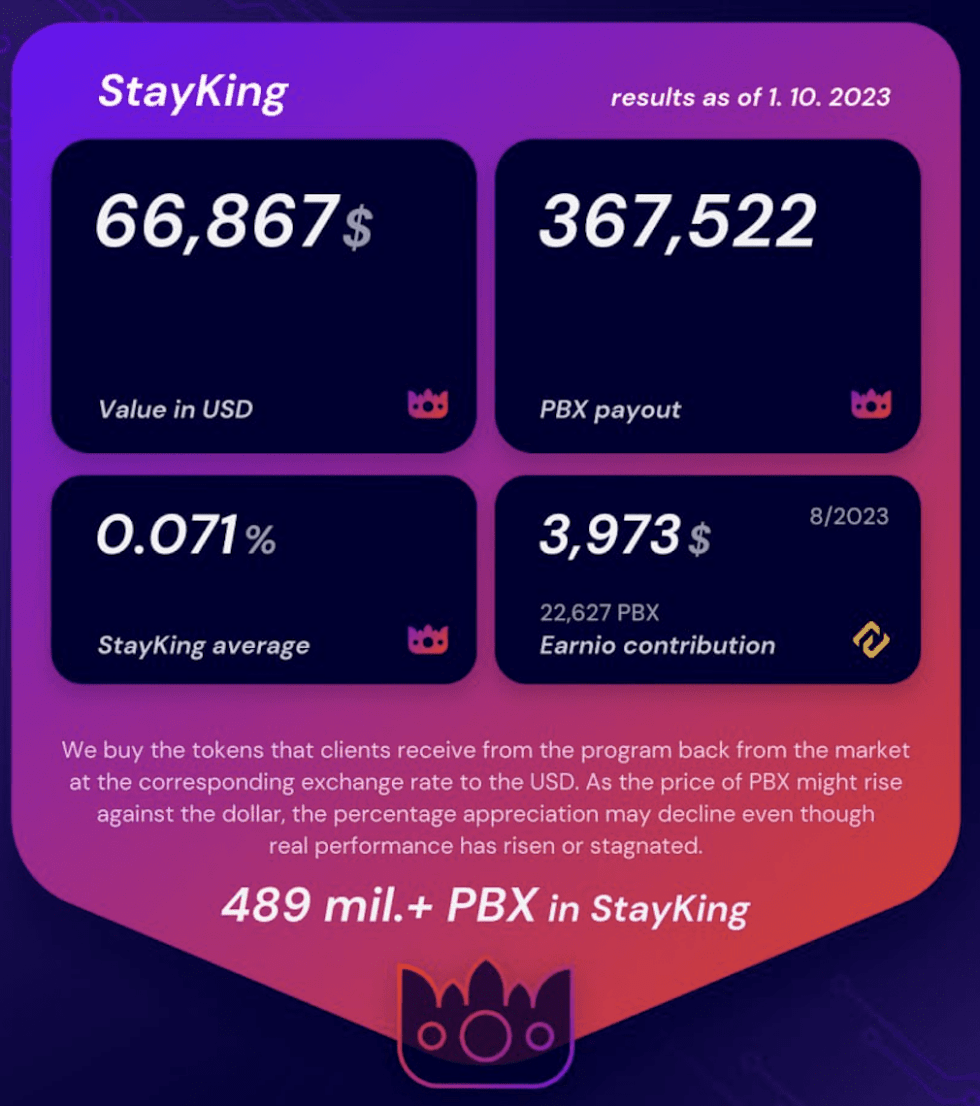 What was the situation on the cryptocurrency markets and how did it affect our trading results? You can learn all about it in the regular blog article of our Trading Frontman Tomáš Hucík.
2) What is brewing at Probinex
More than 2 million USDC is allocated in Earnio
2,168,893 - that's exactly how much USDC is allocated in Earnio for the month of October. The increase in allocations has jumped by 53% since September, when 1,416,868 USDC were allocated, or almost 773,000 USDC!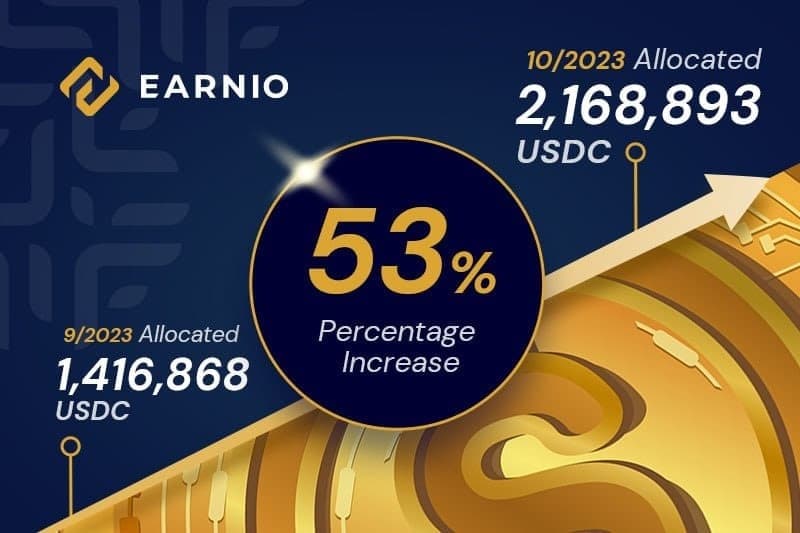 Can you guess how much will be allocated in Earnio at the end of October?
Earnio Fix launch: the cap has already been nearly half-filled
During September, we managed to fully launch the Earnio Fix product, which delivers a fixed appreciation of 1 to 2% per month, depending on the value of PBXs locked in StayKing.
The product has been met with great interest, which is steadily growing. The set total limit of 1.5 million USDC for Earnio Fix is thus already almost 50% filled.
Nearly 720,000 USDC are currently allocated in Earnio Fix, leaving only 780,000 USDC to fill the limit!
Are you interested in Earnio Fix and don't want to miss the opportunity to earn up to 2% per month? Allocate your USDC today!
Making StayKing even more fair: we are introducing a Reference Value in USD
Since the beginning of the project, fairness has been a core value for us, alongside transparency and a commitment to transformation of the financial world.
So, in the context of the current evolution of the PBX token price, we have proceeded to change how we evaluate the terms in our products for StayKing participants to make it even easier to reach a higher level.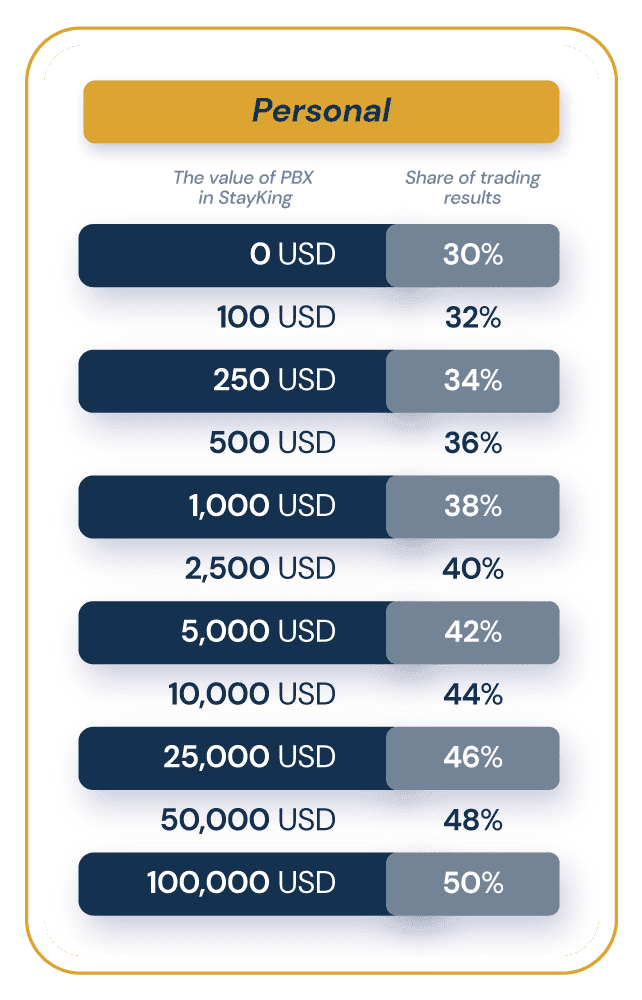 Now, the number of PBXs in StayKing is not crucial for determining the amount of rewards in Earnio, but their dollar value at the time of staking is. Thus, the Reference Value is important for reaching a specific level, which can increase as the token price increases, but can never decrease for ongoing StayKings.
3) Probinex in the world
Probinex as the main partner of the annual Czech Business Council event in Dubai
A few months ago, we informed you that Probinex became a member of the Czech Business Council, an association of Czech entrepreneurs operating in the United Arab Emirates.
On Wednesday, 25 October, the annual event of this association will take place in Dubai, at which, among other topics, the new ambassador of the Czech Republic to the United Arab Emirates will be presented. Probinex is the main partner of this event.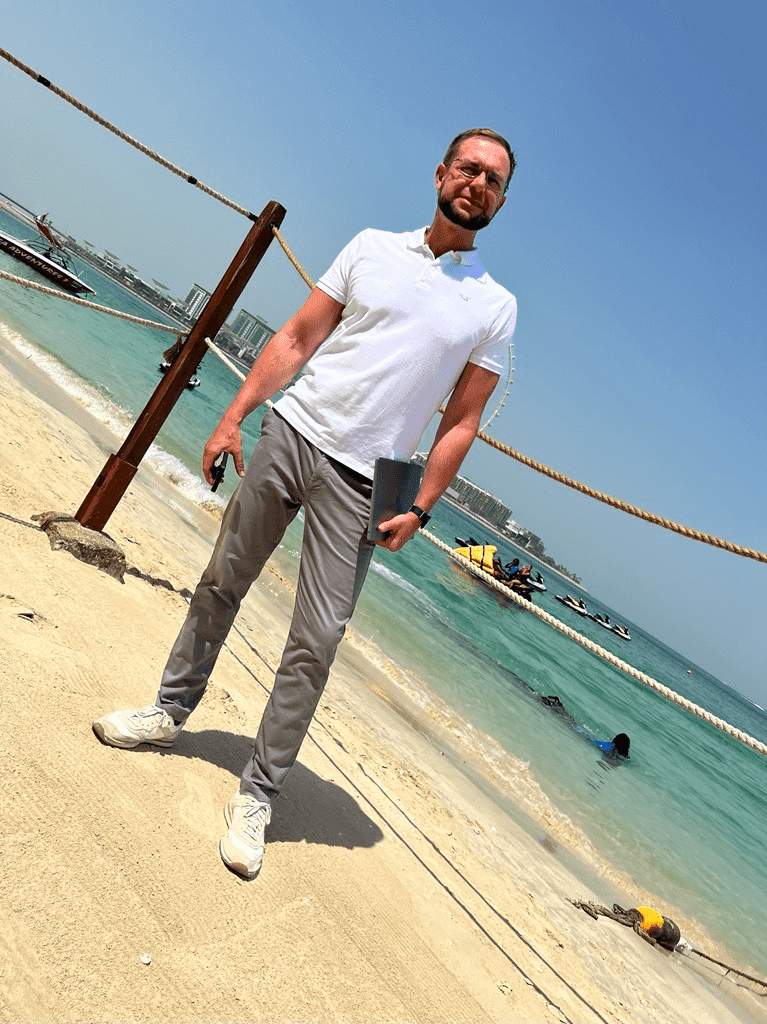 During this event, Michal Baturko Olbert, co-founder of the Probinex project, will share his perspective on the world of cryptocurrencies and introduce Probinex to the members of the association.
You can therefore look forward to a hefty amount of photos and interesting information directly from the site.
The beginning of major business opportunities
The Probinex project is entering the next phase of its existence. We have finished products, the interest rate in both Earnio and StayKing is growing, and with it the demand for PBX token, which is reflected in the increase of its price.
But now we have to really dig in and get our products out to as many people as possible. As Adam mentioned earlier in May, to expand the project we have primarily delved into offline activities and building relationships with potential business partners.
Therefore, since June, we have held numerous webinars and seminars in which we present the vision of Probinex to potential partners.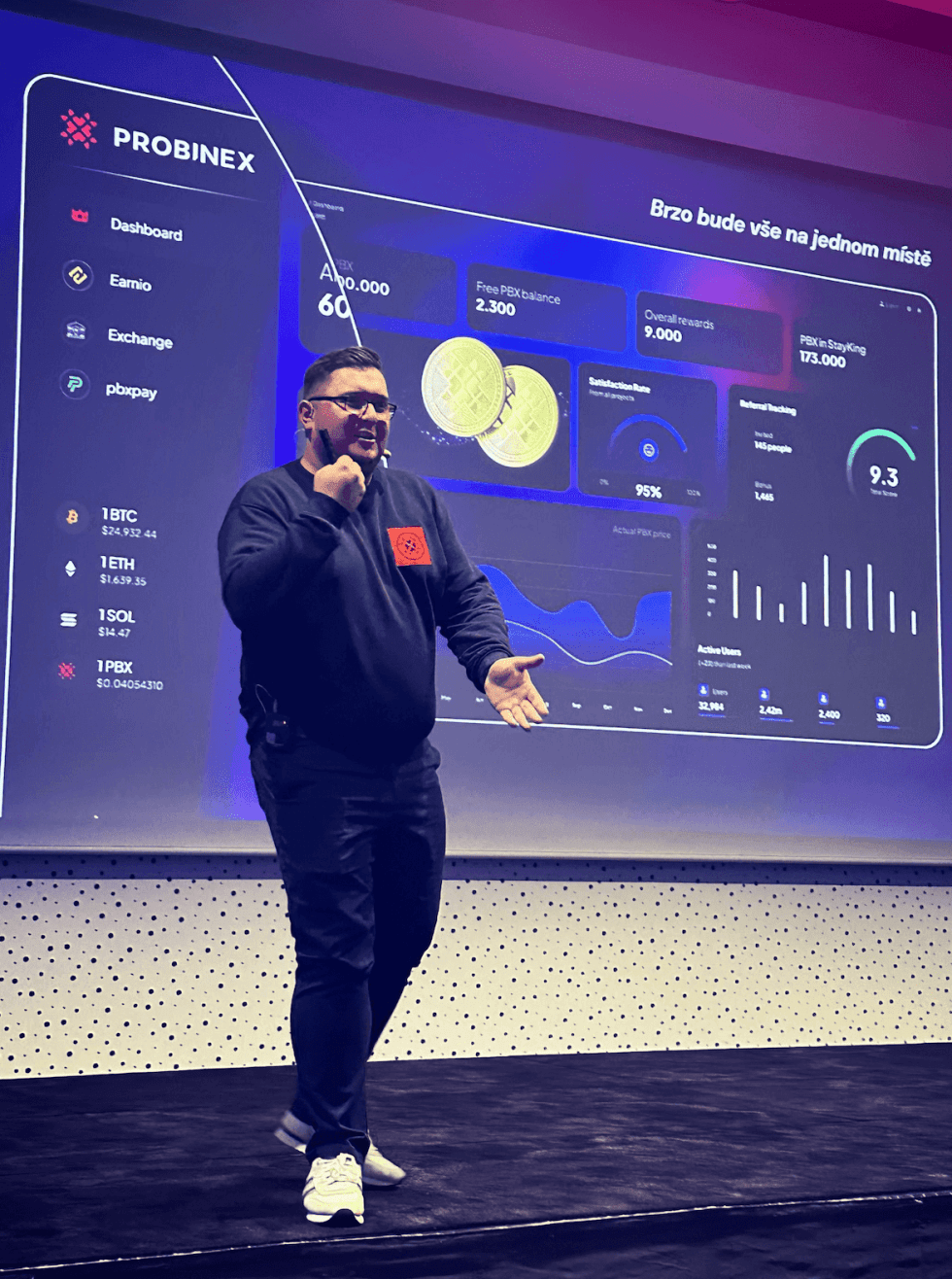 In September, we took these efforts even further. We were invited to a conference at the Voroněž Hotel in Brno, where we had the opportunity to present our vision and mission to four hundred participants.

The ideas of Probinex resonated strongly with the audience and we are already planning another high-profile event where we intend to kick the current phase of the project into high gear.

So stay tuned, it's going to be a blast!
You ask, we answer
What if I am contacted on Telegram by a person claiming to be a member of the Probinex team?

At Probinex, we have an important principle: we never address clients first on Telegram. If someone contacts you on this network on our behalf, it is most likely a scam. If you happen to open such a message on Telegram, please do not click on any attached links. Often this may be phishing or other deceptive practices.

That's all for now! We wish you a successful October and look forward to working with you again!