Every month we bring you a regular newsletter packed with hot news from the Probinex project and beyond. This time, we're also adding ot our blog.
Adam Neuberger's opening words
The first quarter of this year is behind us and I must say there is so much information about the project that it is getting harder and harder to navigate through it. Fasten your seatbelts, this reading is going to be a ride!
The current situation in the cryptocurrency market is very volatile. Therefore, we leave nothing to chance and keep most of our capital out of the market.
There is, of course, the possibility of profit, as there always is, but we find the risk disproportionate in this market structure. We have therefore decided to wait for a clear confirmation of the trend.
On the other hand, thanks to sufficient capital reserves, we are ready to accumulate cryptocurrencies at lower prices in the event of a downturn.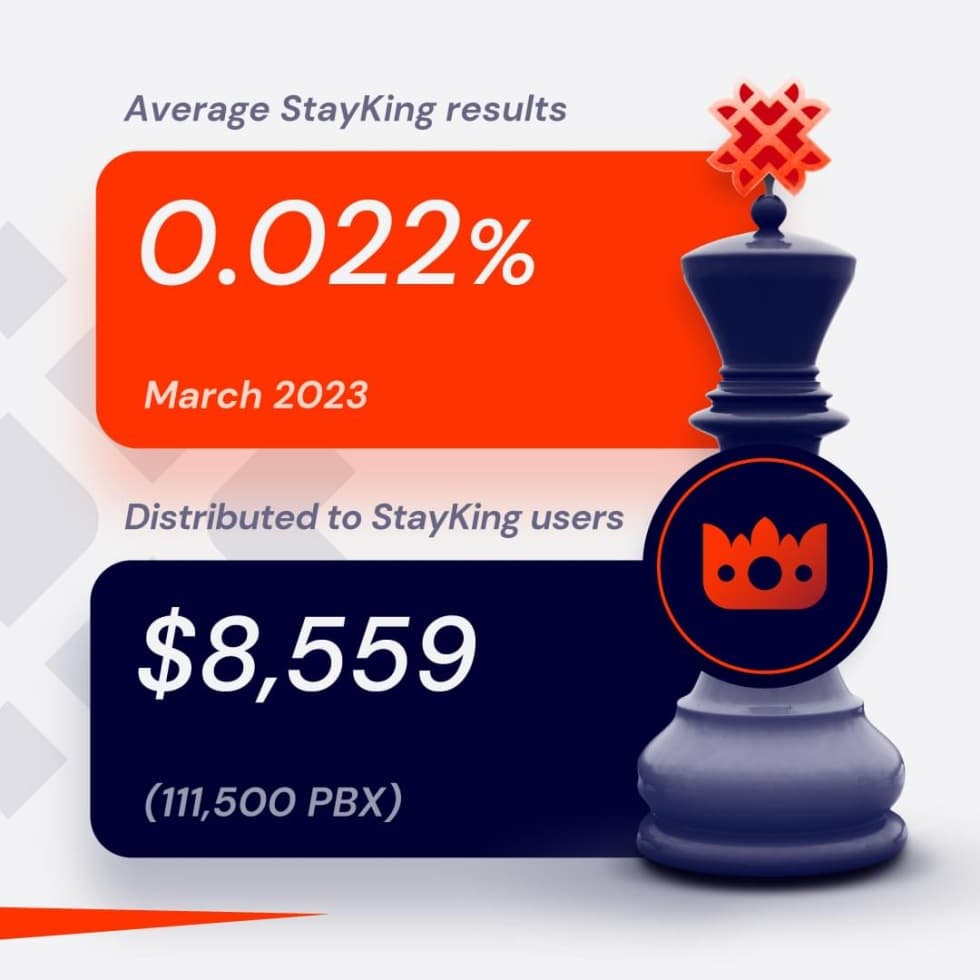 Therefore, only a small amount of capital was deployed in the market in March. Some was traded on futures, but at a loss. We offset this by realising profits through the sale of cryptocurrencies that we held as spot. We thus ended the month in slightly positive figures.
We are aware that this is a lower return, but we believe that at the moment it is particularly important not to lose funds by taking unnecessary risks and to arm ourselves with patience.
What is brewing in Probinex
We've launched the StayKing Affiliate Program and spiced it up with a massive contest
Since its launch in May last year, our royal StayKing program has surpassed the incredible milestone of 520 million PBXs locked into smart contracts.
The fact that more than half of the total number of tokens are in StayKing is a reflection of the enormous trust you place in it. And for that we would like to reward you!
We have set aside 10 million PBX to give away as part of the StayKing Affiliate Referral Program.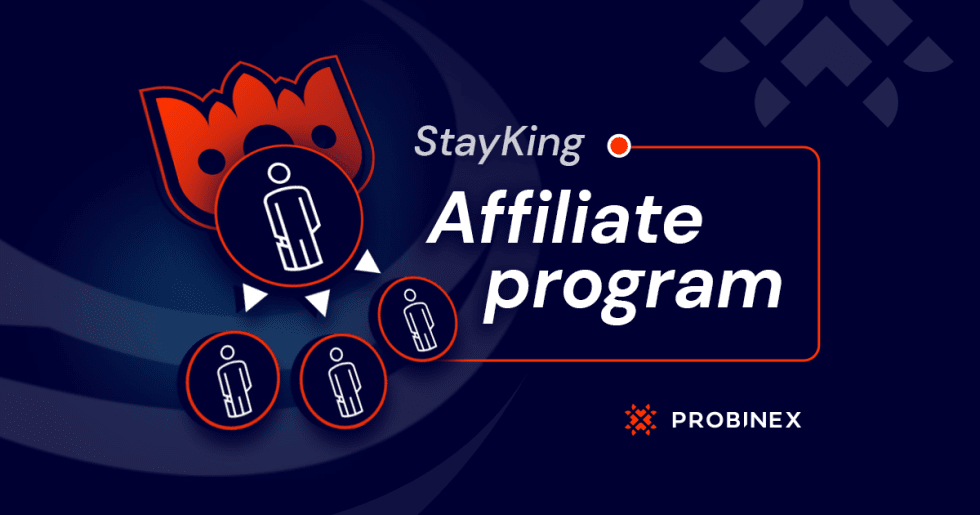 How to participate? In the affiliate section of your account at client.probinex.com, you will find a referral link that you can send to your friends and acquaintances.
Just have at least 1,000 PBXs signed up and you will receive tokens worth up to 7% of your friends' new StayKing! Find out more about the affiliate program in this article.
Contest for 10 000 PBX!
And that's not all! We've added a new competition for a chance to gain even more PBXs. It will take place throughout the month of April. Ten winners who bring in the most new stakers will split 10,000 tokens.
Three months of Earnio: AUM 300 thousand USDC and 100 active clients
It's been a full quarter since the launch of our audited platform and the growing numbers prove that the interest in such a unique product is high.
Currently, Earnio has surpassed the milestone of one hundred active clients who have already allocated more than 300 thousand USDT worth of funds.
Earnio is still in the testing phase with a closer community, so that we can gradually iron out the last details. But soon its doors will open to the world! Stay tuned!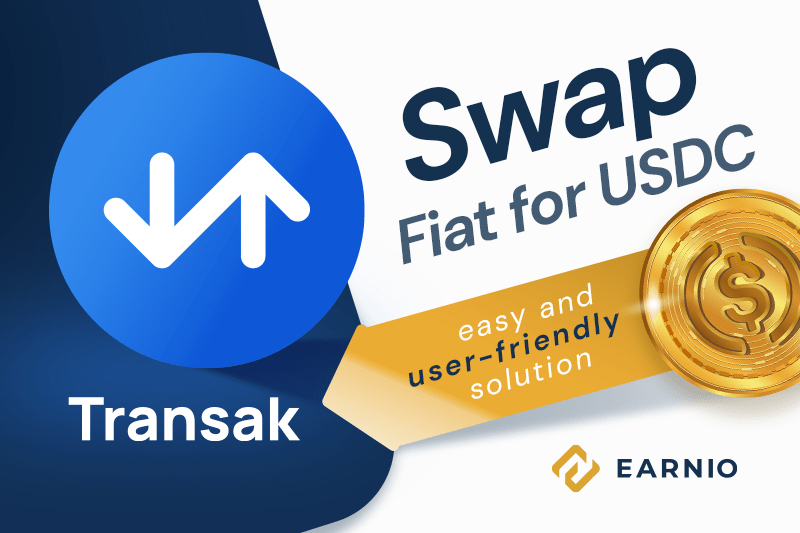 Enter Earnio with credit card or SEPA payment
In March, we also managed to meet our goal of making it easier for everyone to enter the world of cryptocurrencies. We have implemented the Transak app into Earnio, which allows you to buy the USDC you need in fiat currency with a payment card or SEPA payment.
Temporary interruption of the allocation function
To make Earnio even better, we need to make a major update. For proper implementation, we need to temporarily disable the allocation option for a while. However, by the end of the month this option should be available again so that you can allocate for the next period.
Business Mission to Taiwan in a Government Special
Probinex received a nearly royal welcome. Michal Baturko Olbert, the co-founder of the project, embarked on the biggest Czech business mission in the last five years and together with representatives of business and Czech politics headed to South Korea and Taiwan.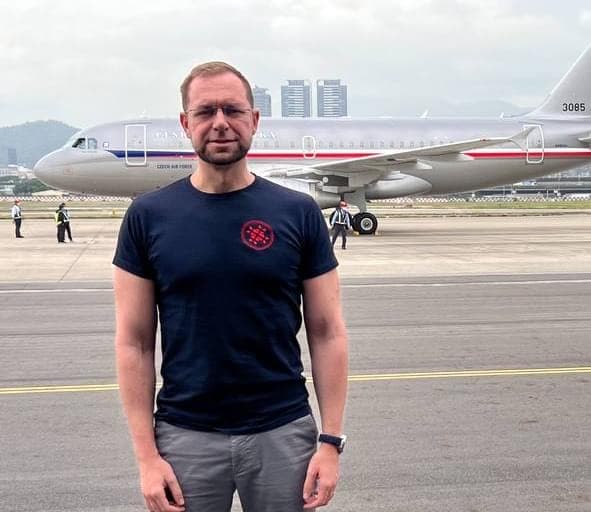 Missionary Michal thus had the opportunity to spread the vision of Probinex at the highest levels and to gain a lot of valuable experience and contacts. You can look forward to a comprehensive report on what the journey entailed and its results soon.
We've got a number of Ask Me Anything events coming up
Probinex is also becoming increasingly open to the international community, for whom we are now planning several so-called Ask Me Anything events, in which crypto enthusiasts can ask Adam directly about the project or the world of crypto.
The last AMA was held on the occasion of the BitMart listing. You can read a transcript of this event in English in an article on Medium.com.
Coming up tomorrow is the AMA within the Twitter Spaces, which you can access via this link.
Another AMA is awaiting us within the next week in cooperation with Binance.
Probinex in media
Each year, the month of March is marked by one not-so-popular obligation: filing a tax return. This can be all the more annoying when it comes to cryptocurrency trading.
The Czech Republic has rather strict and bureaucratically demanding rules compared to other countries. How could this situation be improved? You can read Adam's commentary published on Finmag. Readers rated his opinion as the most beneficial of all.
4) You ask, we answer!
I couldn't get through the verification process to Earnio, what was the problem?
Although not all cases can be characterized as such, in general, our clients have the biggest problem with the document for address verification. We are only allowed to use bank statements for this purpose, or residential related invoices such as electricity, gas, water bills etc.
These documents must include your name, address and date. It is imperative that these are not screenshots. It's easiest to use a PDF account statement, you can usually download it directly from your online banking.