Rocket July 2023 at Probinex
The holidays are now half over, and although the summer months are usually associated with relaxation, vacations and gathering new energy, in Probinex, on the contrary, July marked another period of skyrocketing growth.
We are still working tirelessly to fulfill our vision and build a unique project to meet your needs. Let's take a look at what July was like.
Opening words by the co-founder of the project Adam Neuberger
A growing sense that the entire crypto world is facing a bright future is in the air. Major financial players are gradually leaning towards the adoption of digital assets, despite the fact that they have often been very negative about them. Whether it's giants like J.P. Morgan, BlackRock or even Raiffeisenbank, it's clear that they are all trying to get the most out of the imaginary crypto pie.
However, our philosophy is different. From the beginning, the vision of our project has been to deliver cryptocurrencies to the general public and connect the world of traditional finance with the benefits of modern technology and blockchain.
1) StayKing results for July 2023
July was yet another successful month for StayKing. Our semi-automated strategies were especially successful.
In the second summer month, StayKing achieved an average performance of 0.304%. This resulted in 1,532,100 PBX tokens worth 98,054 USD being distributed among participants. Earnio contributed over 3,000 USD, 2.5 times more than the previous month.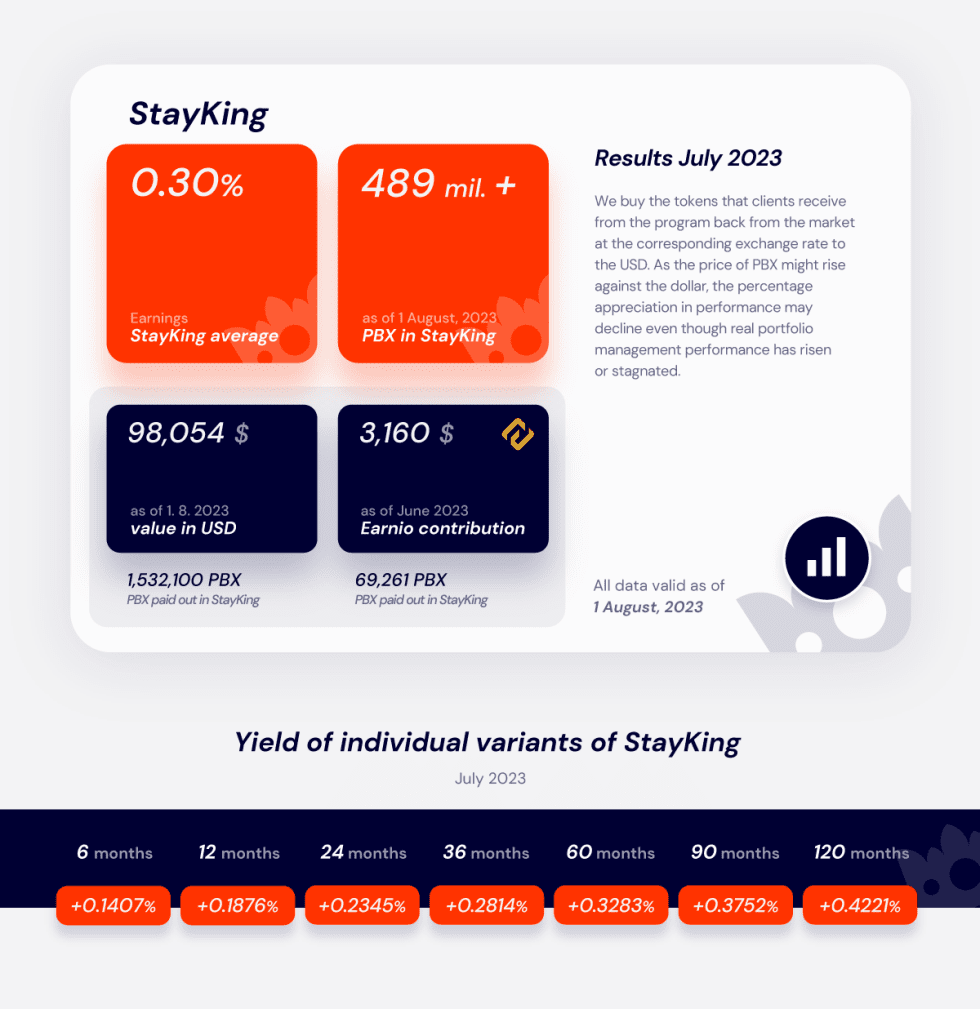 The market situation has been affected by the long-awaited court decision on Ripple Labs, the developer of the XRP cryptocurrency. And how might the re-naming of Twitter, whose profile features the Dogecoin cryptocurrency symbol, impact the market?
For details on these and other important July events in the crypto space, check out the video by Probinex trading frontman, Tomas Hucik, or our blog, where you can find a comprehensive article on this topic.
What's cooking at Probinex
988,000 USDC is allocated in Earnio
1 million USDC. This milestone is another one to soon be reached by Earnio. Since last month, the amount of funds allocated by clients has seen an increase of 67.3%. This brings the August allocations to a total of 988,616 USDC.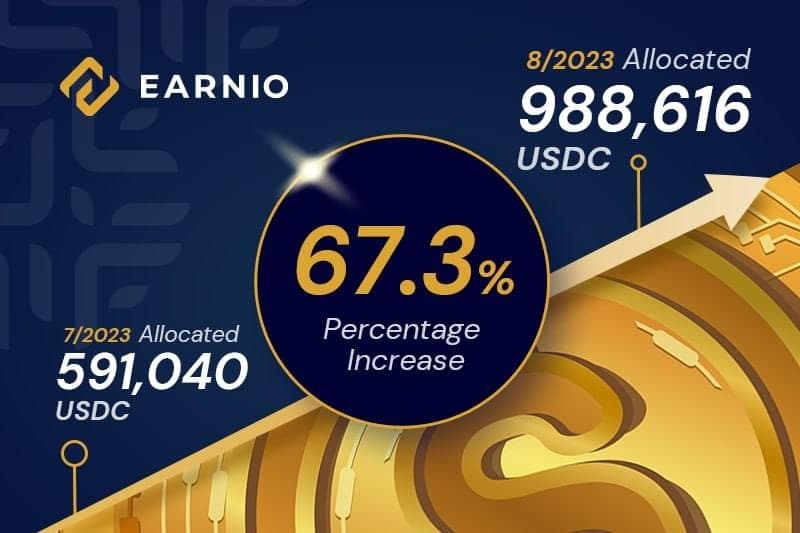 We are extremely grateful for your continued trust, it encourages us to keep growing and achieving even greater success. Can you guess how much will be allocated in the following month?
Simple entry and exit in and out of the cryptoworld
One of our main goals from the very beginning of the project is to open up the world of cryptocurrencies to the general public. That's why we are constantly working to make this world as accessible as possible.
For this reason, our PBX token is tradable on two centralized exchanges and a decentralized one.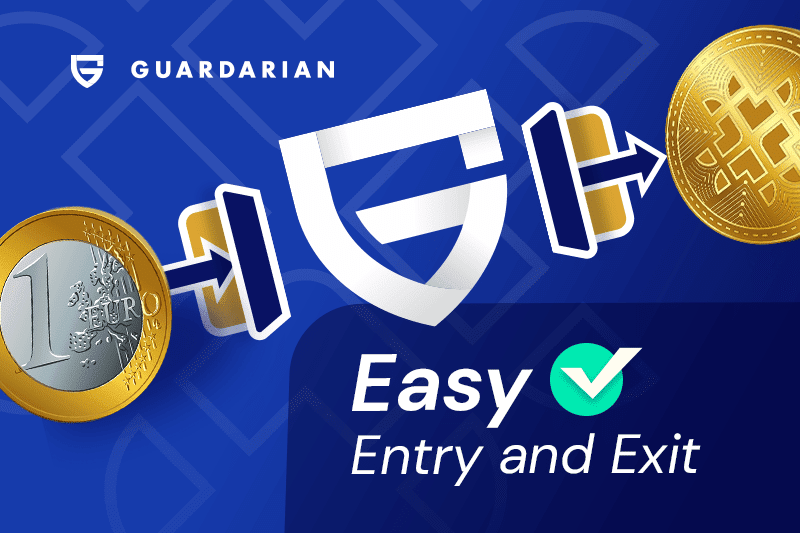 We have also recently integrated the Gardarian currency exchange, which not only makes it easy and fast to buy tokens, but also allows you to exchange PBX tokens to euros. This function is available in the backoffice client.probinex.com in the section Selection/Sale.
pbxpay with lower fees and after a facelift
We are constantly working on improving all our products, including our unique pbxpay e-wallet.
Recently, we have been able to negotiate more favourable terms and conditions and can therefore significantly reduce the usage fees.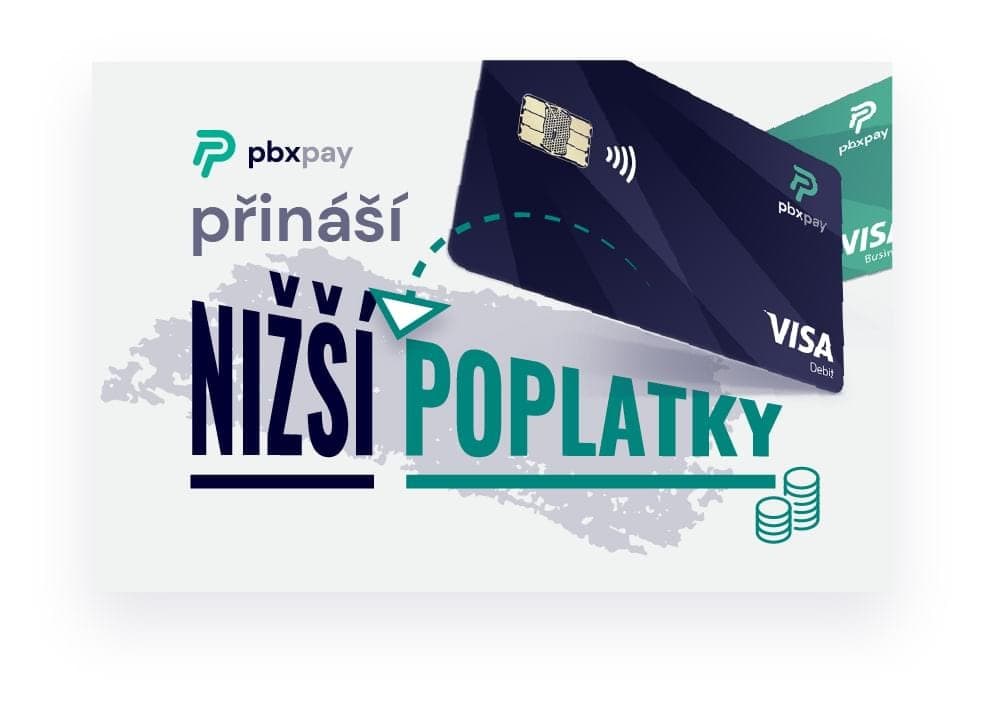 The pbxpay wallet is part of our product ecosystem designed to make it easier for everyone to enter and operate in the world of cryptocurrencies.
In the future, it will form the payment backbone of our platform, where all our products and services will be unified. Thus, in addition to reducing the fee, we have also worked on its facelift to make pbxpay even more user-friendly.
Have you tried pbxpay yet? You can create a free account today.
3) You ask, we answer
I am unable to verify in Earnio or Probinex, what could be the problem?
The document confirming your home address is the most difficult to verify. This document is used to verify your current residential address. It is required by European legislation. For verification, we can only accept a bank statement or an invoice for housing-related services (e.g. electricity, gas, water, telephone, internet). The document can be in electronic form, such as an electronic statement. It must include your name and address and be no more than 3 months old.
And that's all for now! We wish you a wonderful second half of the summer full of well-being, lots of adventures and fulfilled goals!