July through the eyes of a Quant
Bitcoin went from consolidating to a slight uptrend during the month of July, all on above-average trading volume compared to the values ​​that are common during the holiday season.
The market has clearly indicated to us to be generally more confident again. The first significant level suitable for testing is located around the price of 26,700. If we were to stay at this level, then a proper test awaits us in the waters surrounding the psychological border of 30,000. Above the price of 32,000, the exchanges' order books are significantly sparser and still quite rare. I am very curious if the market will even be able to get into this position and if yes, then what its reaction is going to be.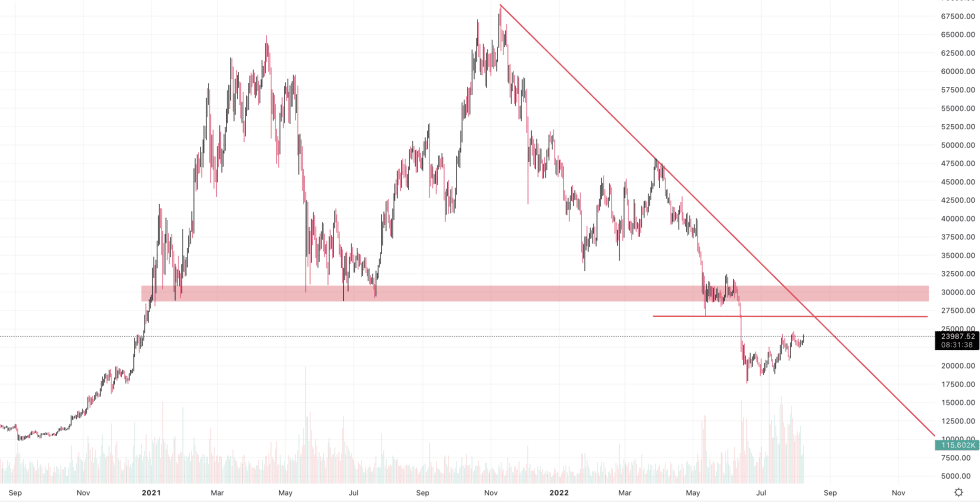 Image: Illustration of key levels if the BTC market goes up again
Trading in a narrow range within a slightly ascending channel may sound boring at first glance, though for a number of traders it is a blood bath. In the key area of ​​support marked around the 19,000 level, there was furious accumulation into long positions. Because of its structure, it was perceived as a very attractive situation offering a nice risk reward. This means that there was more upside potential than downside potential.
Every break above the high of the previous swing was met with early selling, therefore the forces of the bulls and bears clashed frequently and were fairly even. However, in the end, the bulls came out slightly stronger.
In the graphic below, you can see how one of our long-term strategies holding a short position on ETH/USDT (since April of this year) dealt with this situation.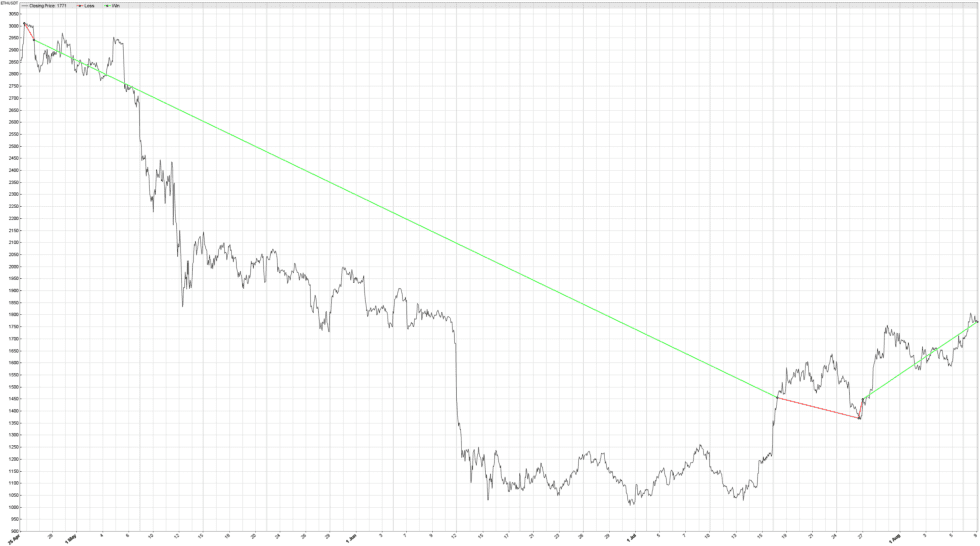 Image: The long green line indicates a profitable short trade on the ETH/USDT pair
This strategy managed to brilliantly short trade ETH/USDT from the area below three thousand to the price of 1470. There was a double attempt to open a reverse position, where at a certain price level the position is closed and trade is re-opened in the opposite direction. We can clearly see the drive into a long position. It will be truly interesting to see how far the market rises and at what point we may collect the final profit target.
It's not always the rule that deals turn out this well for us. However, we do not even try to estimate the exact bottoms and tops of the market through our strategies. Our main goal is to trade upon probable and likely moves. When the situation does not develop according to our hypothesis, we rather resort to closing the trade quickly at a relatively small loss.